30 June 2021
Develop the clientele of your museum shop through the reproduction of works of art
Do you sometimes have the impression that your visitors are flying through your museum shop ? Key rings, postcards, calendars … museum shops often offer the same souvenir items. What if you offered something really different to your visitors? Give them an immersive, original and timeless souvenir: offer silk scarves reproducing the works of art from your exhibitions. This quality object will seduce your visitors. So, they will want to spend more time in your museum shop.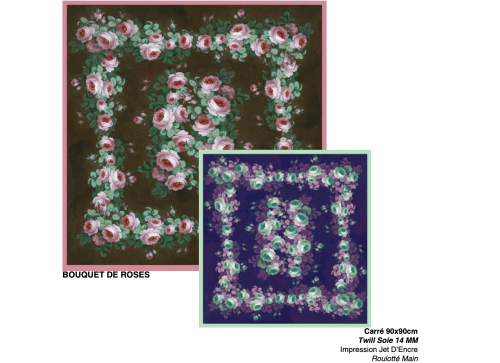 Why offer the reproduction of works of art on a silk scarf ?
Temporary or permanent exhibitions, you can have the works of art you exhibit reproduced on silk scarves and offer them in the souvenir shop of your museum. Fully customizable, the silk scarf is a timeless souvenir that can be worn, framed or given to a loved one as a gift. More than a souvenir, the silk scarf is a fashion accessory, a symbol of elegance. Silk highly prized for its qualities is worn in all seasons. The size of the silk scarf is available according to your wishes (square, stole, and scarf). Offer your visitors the opportunity to take home a quality souvenir of their experience in your museum.
Maison Malfroy, your partner of choice in the reproduction of works of art on a silk scarf
For the reproduction of your emblematic works of art on silk scarf, call on a real specialist who will accompany you throughout the process. Maison Malfroy, located near Lyon, has specialized since 1939 in the creation and manufacture of silk scarves as well as the reproduction of works of art on scarves. From the choice of works to their printing, the whole team, whose expertise is recognized worldwide, supports and advises you as best as possible.
First, we select together the digitized works that you want to reproduce on a scarf for your museum.
Our team of graphic designers then provides you with a first digital model. This allows you to discover the general rendering of the scarf. It is entirely possible at this stage to add, if desired, the name or logo of your museum as well as the name of the work and the artist. Once this digital model has been validated, we then print a first "test" scarf. You then have in hand a finished product in all respects that which you will offer to your visitors. You can better see the colors, the material, the rendering of the work on the scarf
As soon as the test scarf is validated, we will print your order on a larger scale so that you can quickly dispose of it in your museum shop.
Maison Malfroy has specialized in the reproduction of works of art on silk scarves for 80 years now. Our entire team puts its expertise and know-how at your service to offer you a high-end product made in France and in Europe.
Would you like to know more and discover some of our museum achievements? We invite you to consult our page or to contact us.