15 March 2022
The silk scarf as a gift for a retirement ?
The retirement of one of your employees is approaching. You are looking for a gift to give her. Have you thought of a silk scarf? The silk scarf is an out of the ordinary retirement gift. This timeless fashion accessory can be worn everyday. It allows your employee to keep a beautiful memory of the period spent in your company.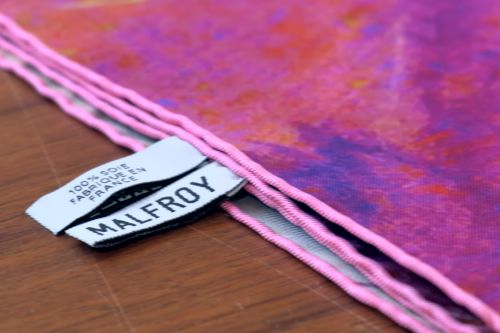 The silk scarf: an original retirement gift for your employees
A silk scarf as a retirement gift for one of your employees is a luxury item. Product with which you are sure to please.  Get out of the traditional bottle of champagne or chocolates. Stand out by offering an original product. A silk scarf in the colors of your company, also allows you to communicate around your values. Even after your employee has left the company. This luxury product enhances the recipient of the gift. But it also enhances your business through this timeless product, a symbol of French elegance. It's a great way to tell your retiring employee. A way to express that you value his work and the time he spent in your business.
The silk scarf: a personalized retirement gift for your employees
You can choose on our e-shop from the hundreds of products offered in the existing collections of Maison Malfroy. There is certainly a gift to suit your own tastes or those of your collaborator. And this, with the sole objective of making him/her happy and showing him/her your gratitude.
The second option would be to have a series of silk scarves printed in the image of your company. The silk scarf then becomes a real promotional item. You can have your logo, graphic charter or any other distinctive sign affixed to it. The silk scarf becomes a communication channel serving your image. These personalized scarves can be offered to your employees during retirement, but also for other occasions, and can also be addressed to your customers or suppliers.
Call on a silk scarf specialist
Making silk scarves requires real know-how. For all your projects, call on a real specialist: Maison Malfroy. Since 1939, Maison Malfroy has been creating scarves and silk ties. Our Lyon company is recognized worldwide for its know-how. Whether you want to print a scarf in the colors of your company, or choose a model from our collection, our team is at your disposal to discuss your project, advise you on the product best suited to your needs and support you if necessary throughout the creation process. Contact us to discuss your project and visit our website to find out more about our achievements.