Maison Malfroy
Guy Laroche license
Guy laroche
When Guy Laroche launched his Fashion house in 1957, he had one goal in mind: to free women's body from New Look and to offer them an elegant "refined and discreet" in his words, both comfortable and full of mystery . He dreamed of modernizing an ancestral know-how to a culture of high fashion suited to his days.
In his hands, crepe de chine and rags are transformed into misty and sparkling cuts, both luxurious and suitable for everyday moving.
He became known with the striking details of his subversive cuts: a black sheath dress with high neck reveals a completely bare back, a long skirt accompanied by a cut to the waist, a strict suit jacket has a draped back. Clever and precise, Guy Laroche constantly juggle between minimalism and seduction.
His creations mark their era: the ball dress' inventor impresses by Women's Wear Daily's "ample forms" then revolutionary: its "back surprises" delight its customers; reversible knit hats and overturned spice women's wardrobes.
Parts such as the coat-dress or shirt-dress became part of modern women's wardrobes.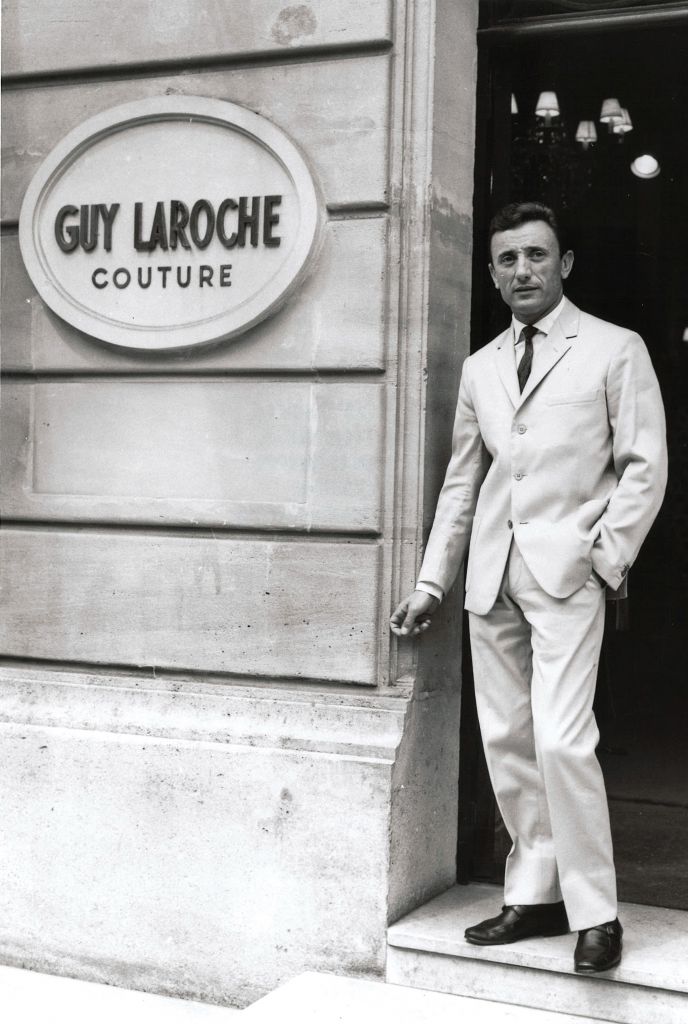 Innovative ideas
In 1966, Guy Laroche Guy LarocheMonsieur, a line also emancipatory offering flannel jackets, jacket-shirts and combines corduroy suits and turtlenecks mesh – a male revolution.
Fiji perfume launches in 1966 and Drakkar Black in 1982, won a phenomenal success: tens of millions of bottles are sold in a few years, and Drakkar Black continues to be a bestseller today.
The House is in full swing both at the team and customers level; Azzedine Alaia and then Valentino Garavani are learning as apprentices in Laroche workshops, shops become meeting places for actresses such as Jane Fonda, Faye Dunaway or Mireille Darc, big fan of the brand.
A revolutionary approach
Its commercial business approach is revolutionary: it has much shorter collections, it presents itself to the world. From Lebanon to Japan via Turkey, it seeks to build personal relationships with customers on every continent.
His pioneering and bold imagination is recognized by the French government, which awarded him in 1987 the price of the Legion of Honor.
When Guy Laroche disappeared in 1989, the house was taken over by several designers such as Michel Klein, Alber Elbaz, Marcel Marongiu and today Adam Andrascki.
Adam Andrascik new artistic director of the house
Young creative vanguard, has convinced Hendrick Penndorf, president of the brand owned by Hong Kong group YCM trading & co.
The first collection of Adam Andrascik for Guy Laroche was presented at the Paris fashion week autumn-winter 2015-16 on March 4, 2015.
Currently 30 years old, Adam Andrascik learned from the famous Fashion Institute of Technology in New York in 2006, and later in the Central Saint Martins, center of London fashion.
In 2010, the designer is selected during a talent show organized by the London department store Selfridges. Following this distinction, he created his own eponymous label and presents his collection in London and Paris.
Now artistic director of Guy Laroche, Adam Andrascik hopes to bring a new creative energy to the brand. This project proves to be a challenge for the young designer, who will have to manage his own line at the same time.