15 May 2021
The Malfroy Family : History and values
Today known to the greatest, Maison Malfroy has achieved a phenomenal journey since 1939. Proud of its values, it gives us the keys to its success: Perseverance, Authenticity and Family !
Malfroy and Million are above all a story of struggle. A story of perseverance. A story that has survived war, financial crises, recessions. But who, however, has not made any concessions.
A Silk House that tells the story of a family, the Malfroy family. From fathers to sons, brothers, wives, daughters, they add their stone to the building. An exceptional dedication transcribing the values of respect, kindness and brotherhood through an accessory of choice: the silk scarf.
A close-knit family. A devotion to authenticity. Excellence and this desire for preciousness.
These are the values ​​that lead us today to support a cause. That of the ANFEM association providing precious help and assistance to military families. Chaired by spouses of members of the armed forces and intended for women, it constitutes real support for them. This association is made up of 60 delegations across the whole of France, allowing actions across the whole of France.
Because during this Christmas period, our hearts are deployed to put forward family and sharing values. Because the magic of the holidays inspires our spirit to help our neighbor, it is important to all of us to help and support the families of those who defend our interests.
It is for these reasons that we invite you to discover the new scarf produced for the ANFEM association. A scarf calling to make a gesture for these families by giving them our support. Because "A scarf bought, A family helped."  We invite you to visit the association's store.
Because today, we place these transmitted values at the heart of our lives. Values born from all these years of cultural enrichment, passion and confidence. It's not just a scarf that you wear, but a story, a passion, your truth.
At the age of 80, Maison Malfroy does everything it can to defend what it believes in, so as to always be closer to those who support it and to thank each member of this large family. If you read these lines, wherever you are, you are part of this line.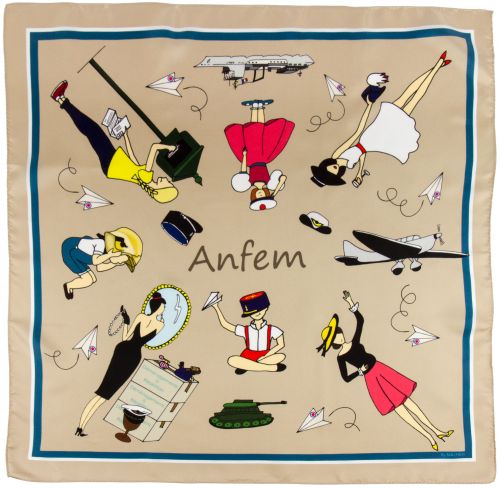 Maison Malfroy joins forces with ANFEM to support the history of military families.
Because your presence touches us deep in our hearts. Because you are part of our history. By wearing the essence of our silk, you become part of this family